Our company strives to create an engaged and high-performing workforce. This summer, we welcomed 24 interns to work across different departments within our business, where they participated in hands-on projects. Throughout their internship, we have seen college students bring fresh ideas while undergoing professional development at our locations across our footprint. Meet Kail Dubbert, the summer intern supporting Kansas Gas Service.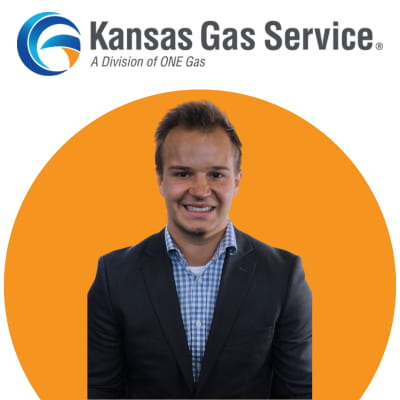 Kail Dubbert grew up on a farm in Beloit, Kansas, where he was most likely found outdoors or playing sports. Now, Kail is a mechanical engineering student at Kansas State University and a second-year intern with Kansas Gas Service in the Engineering department.
What drew you to the Kansas Gas Service Engineering team?
"This is my second internship with Kansas Gas Service because I had such a great experience last summer. I wanted a position where I could challenge myself and use my skills to help my community."
What has been your favorite project that you have worked on this summer?
"This summer, my favorite project is my work with Maximo, a program that writes work orders and creates cost estimates. This project has allowed me to work with different groups within the company and to expand my knowledge of Kansas Gas Service operations."
What is your favorite part about Engineering at ONE Gas?
"Everyone in the Engineering department is super friendly and is willing to drop what they're doing to answer my questions and help out."
What is the biggest lesson that you will take away from this internship?
"Sometimes asking for help isn't the easiest thing to do, but if you are curious and continue to be a learner, you will have the best internship experience."
Our company's mission is to deliver natural gas for a better tomorrow. How can you be a part of building a better tomorrow?
"I can build a better tomorrow by contributing my skills to serve my community and helping those around me."
What is something you have done that you are proud of?
"Two years ago, I ran a half-marathon and am currently training to run a full marathon in October!"
Thank you, Kail, for all your hard work this summer!
Are you interested in learning more about internships with Kansas Gas Service?
Learn More