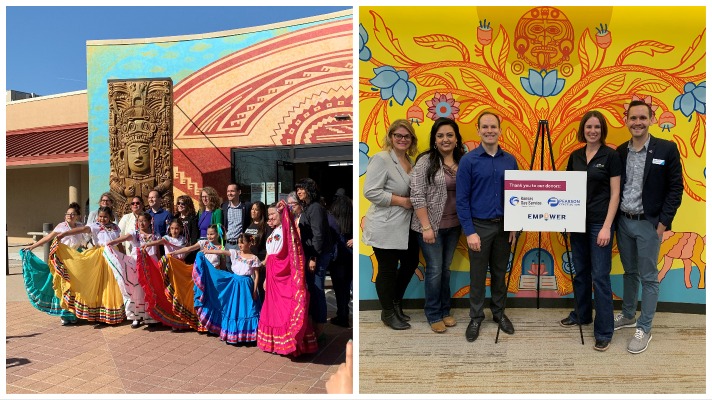 Great things are happening at Evergreen Community Center and Library in Wichita, Kansas, and we're proud to be part of it. The new facility honors the Hispanic cultural history of the city's North End and brings together essential community services under one roof to serve residents better.
The facility is now equipped with a new natural gas furnace, thanks to a grant from the ONE Gas Foundation. Empower Evergreen Executive Director Ariel Rodriguez says the grant also helped to bring several entities together to support the community.
"Kansas Gas Service believed in the vision from the very beginning," said Rodriguez. "Our new facility is proof of how organizations can collaborate to create a comfortable, safe, and bilingual one-stop-shop for our community. We know this is just the start, but we're truly proud to see this come together."
Besides serving as a public library, significant renovations now provide easier access to a coalition of city services and agencies to support area residents. It will serve as home to Evergreen Neighborhood Resource Center, Empower, Kansas Hispanic Education & Development Foundation, Salud + Bienestar, Kansas Department for Children & Families, Wichita Police Department and Metropolitan Area Building and Construction Department, among others.
Marissa Gonzalez, vice chairperson of La Voz, the ONE Gas Hispanic/Latino Employee Resource Group, recently attended the facility's grand opening. "Our ERG supports this project because it aims to ease access to vital services and connect families to resources in an often-underserved Hispanic community," Gonzalez said.
Lauren Clary, Kansas Gas Service Area Manager of Community Relations, helped facilitate the Foundation grant award. "We're proud to support the Evergreen Community Center and Library, as it provides a safe and inclusive space for neighbors to gather," said Clary. "It demonstrates our commitment to our core value of inclusion and diversity and to create a better tomorrow for the communities we serve."
Learn more about Empower Evergreen and its mission to affect change by connecting residents and resources at EmpowerNorthEnd.org.