On an ordinary day in July, a service order turned into an extraordinary rescue for a dog named Gracie.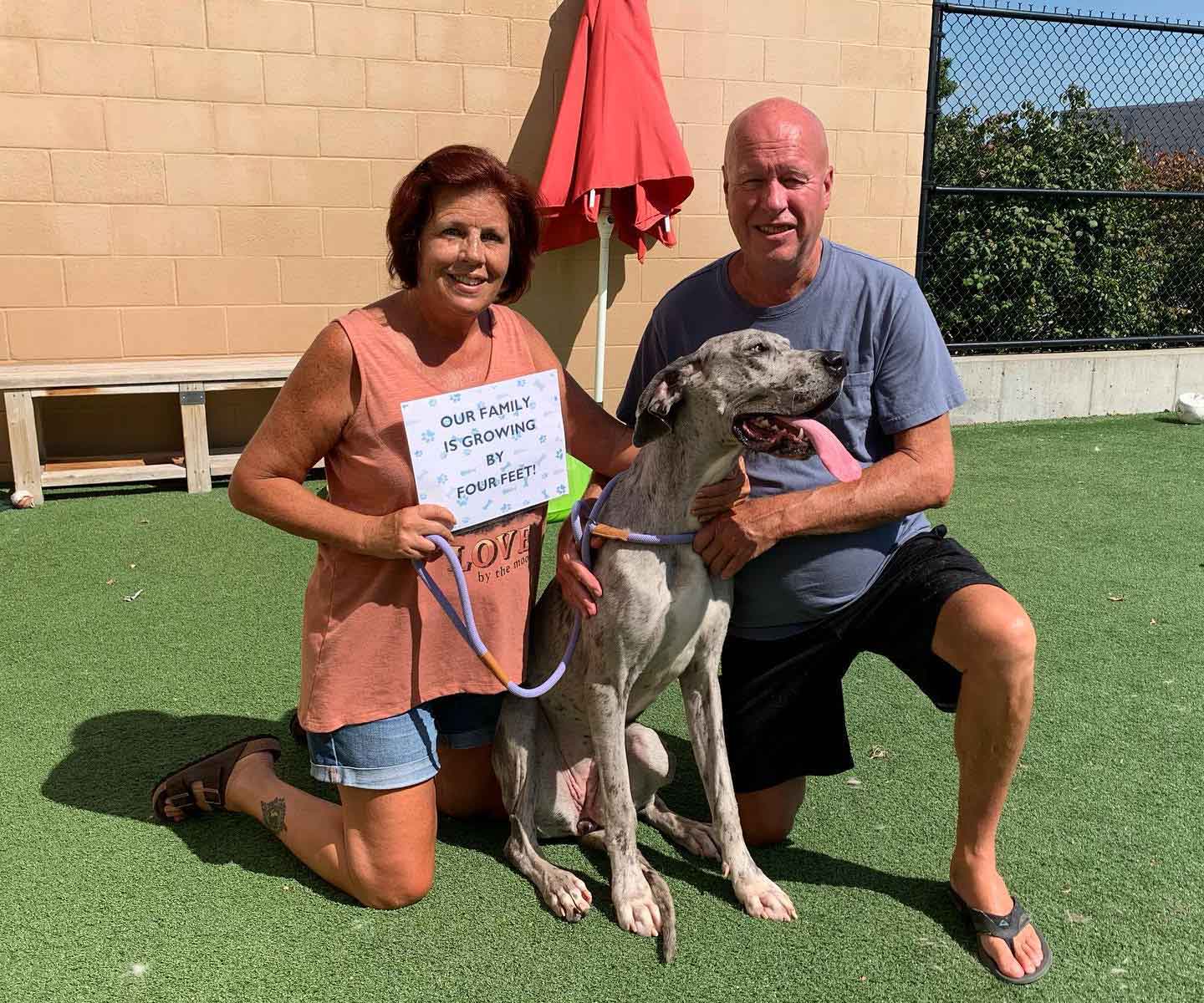 Nathan and Josh, Kansas Gas Service technicians, arrived at a vacant house in Topeka to turn off the natural gas service. What they found is a picture still etched in Nathan's mind - an abandoned and starving one-year-old Great Dane in dire need of veterinary care.
"She kept falling over when she tried to walk," Nathan recalls. "We didn't know if she'd survive but knew we had to get her some help, fast."
The pair contacted Animal Control, and Gracie was taken to Helping Hands Humane Society (HHHS) where an immediate plan was put into place to bring her back to health.
"When Gracie came to us, she was extremely emaciated – you could see all of her ribs," said Emi Griess, HHHS Communications and Media Coordinator. "She only weighed 50 pounds when 120 pounds would be considered healthy for her."
After nearly one month of a carefully followed meal plan created by HHHS's medical team, Gracie was ready for adoption, and her story was posted on social media. That's when Kansas Gas Service Community Relations Regional Manager Lindsay Freeman sprang into action to cover the adoption fees.
"We strive each day to make a difference in the communities we operate in and where our employees work and live," said Freeman. "In this case, our service techs were at the right place, at the right time, and more importantly, did the right thing. We wanted to support their efforts."
The perfect family happened to be waiting in the wings and ready to welcome Gracie home, along with their previously adopted Great Dane and their six-pound Chihuahua. Out of gratitude for Kansas Gas Service's gesture with the adoption fees, the family donated the same amount to HHHS for future animals in need of care.
"Everything about this entire story reminds us of what a wonderful community we live in and how much support we have in our mission of helping animals who have nobody else to turn to," said Griess.
For our service tech, Nathan, Gracie's adoption is bittersweet. "Even though I wanted to take her home, I wanted to do her justice. She has another Great Dane buddy now with her new family, and I couldn't be happier."
As a natural gas utility company, we don't always get all the fuzzy feels. Still, we always place the highest priority on safety. This time, that priority extended to saving Gracie.