Reading Your Meter
Sometimes extreme weather conditions, emergencies or other conditions beyond our control disrupt meter-reading schedules. If access to your meter is a problem, we will contact you to make other arrangements to get your meter reading.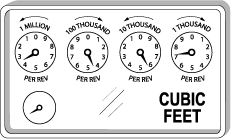 When we cannot obtain a meter reading to calculate your bill, we estimate your usage based on current use by similar customers. Any variation between your actual use and the estimate is accounted for the next time your meter is read.
If your usage has been estimated, an "E" appears next to the meter read number on your bill, and the word "estimated" is printed at the top of the bill. Natural gas usage in this example is A - B = C, or 8 CCF.

How to Read and Report Your Reading Each Month
Some Kansas Gas Service customers prefer to read their own natural gas meters. Reading your meter each month and filing the reading with Kansas Gas Service is really quite simple.
Three simple steps are involved in reading your natural gas meter. Please refer to the example meter faces we've provided below when reviewing each of the three steps:
1. Read each dial in the direction of the arrow, starting with the dial on the left.
2. Notice the numbers are in a clockwise position on some dials, and a counterclockwise position on others.
3. Record the last number the needle has passed, even if the needle has almost reached the next higher number.
Example 1:

Example 2:

How to Report Your Meter Reading
From the Kansas Gas Service website:
Log in to view your account
Click on Welcome <your name>
Select Make Changes to My Account
Select Meter Reading
Enter your current reading
Click OK to submit reading